Growing Pains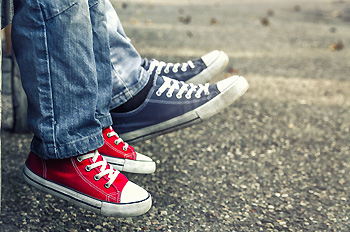 When children experience achy pain in their bones or muscles, parents often dismiss this as "growing pains" linked to the constant growth and development of children. A child's development can have various challenges but pain from growth should not be one. While in rare cases there can be discomfort due to growth, most children who are experiencing pain in the lower extremities are suffering due to instability, misalignment, or muscle fatigue.
Symptoms:
Pain coincides with increased activity
Child becomes tired earlier during activity
Pain occurs later in the day, worst at night
Causes:
Increased physical activity, such as running, jumping, or sports, creates muscle tiredness
Malalignment problems, such as flat feet or high arches, creates stress on the lower limbs
Tight muscles creating excessive stress
After ruling out more serious causes of a child's pain, parents can treat "growing pains" by:
Applying heat to the painful area
Increasing your child's water intake
Having your child wear more supportive shoes
Your podiatrist can help by correcting instability of the lower extremity with custom orthoses. These inserts for your shoes can help control foot function and prevent injury. Custom inserts can stabilize the foot and ankle in proper alignment which will decrease fatigue to muscles and strain to joints.
Pain is the sign of a problem and should not be attributed to 'growth'. Please schedule an appointment with one of our doctors if you child experiences any foot and ankle pains.